Home
Details

Written by

Sanjoy Banerjee

Category: Atticus Open Championship 2021
Things are hotting up after four rounds. Steve Kee won the big clash on top board against Luke and Colin kept his hopes of retaining his title still very much alive with a good win over Brian. Elsewhere Sanjoy and Brendan picked up wins, while the games between Mike Coffey and Steve Burge and Peter Jenner and Steve Winstanley ended peacefully.
We were lucky to have FM David J James analyse some of the games from this round, which are presented below.
...
Results from Round 4:
Luke Boumphrey 0-1 Steve Kee
Brian Ewart 0-1 Colin Horton
Mike Coffey ½-½ Steve Burge
Tom Webb 0-1 Sanjoy Banerjee
Ben Ellington 0-1 Brendan Kane
Peter Jenner ½-½ Steve Winstanley
...
Draw for Round 5 (ties to be played Monday 6th September)
1. Steve Kee (3.5) v Colin Horton (3)
2. Sanjoy Banerjee (2.5) v Luke Boumphrey (2.5)
3. Brendan Kane (2.5) v Mike Coffey (2)
4. Steve Burge (2) v Brian Ewart (2)
5. Tom Webb (1.5) v Peter Jenner (1.5)
6. Steve Winstanley (0.5) v Ben Ellington (1)
Details

Written by

sjb

Category: Club News
The wonderful Monday Summer Nights of Chess continued at the Cross Keys. With the Hurley -Wiseman Tournament still in full swing. It has been good to see so many old and new faces attending the Club in recent weeks. Although now away in Prague, over the early Summer, Andrej Stancak provided some great analysis of some Classic GM World Chamionship Games and David Lawson has always been around to provide some excellent comments and advice to some of our new players and Tournament participants.A few presentations were made on the night with Colin Horton receiving The Trophy for being the 2020 Atticus Open Champion. Azalea May was presented with some exciting Chess Literaure to enjoy on her year abroad( as part of her University Language Course). In the very late hours Steve Burge was presented with yet another European Youtube Song Contest Award!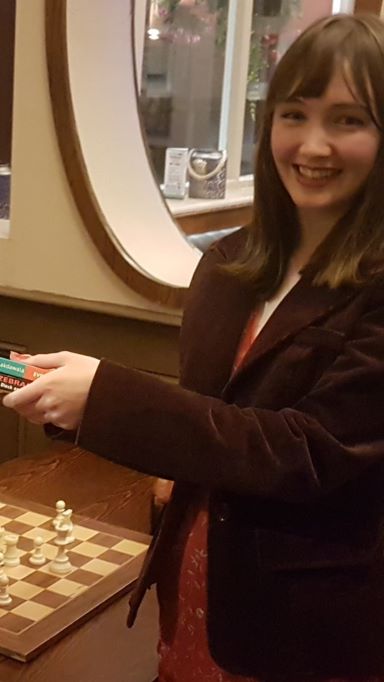 Details

Written by

John Redmond

Category: Atticus@4NCL
Atticus ½-3½ Guildford Young Guns
| | | | | | |
| --- | --- | --- | --- | --- | --- |
| 2294 | John Redmond | 0 | 1 | GM Mark Hebden | 2480 |
| 2079 | Steve Kee | ½ | ½ | IM Matthew Wadsworth | 2466 |
| 1857 | James Rothwell | 0 | 1 | FM Harry Grieve | 2299 |
| 1701 | Steve Burge | 0 | 1 | Viktor Stoyanov | 2330 |
| | | ½ | 3½ | | |
Atticus had a tough opening match in the fourth season of the 4NCL Online which began on Monday. Steve Kee had a tremendous battle with IM Wadsworth and was winning for most of the time before - presumably in time-pressure - he repeated moves in a winning position. I had a good opening against GM Hebden but got ground down in a position where I just needed to 'do nothing' (and do it well). Steve Burge had some attack whilst a pawn down in a Fantasy Caro-Kann but missed some equalising shots in the middlegame. James Rothwell also had chances and was better in a double-rook endgame before time-pressure got the better of him. So - a creditable start to the new season despite the lop-sided look of the score!
Details

Written by

Sanjoy Banerjee

Category: Atticus Open Championship 2021
Results from Round 3:
Colin Horton ½-½ Luke Boumphrey
Steve Kee 1-0 Mike Coffey
Brian Ewart 1-0 Ben Ellington
Brendan Kane ½-½ Tom Webb
Sanjoy Banerjee 1-0 Peter Jenner
Steve Winstanley 0-1 Steve Burge
...
Board 1: Colin Horton v Luke Boumphrey
The first to finish after both players entered a supposedly drawish line in the Dragon. However, later analysis showed there was considerable bite below the surface, where either combatant could have prospered or been sunk. A share of the spoils a fair result.

Board 2: Steve Kee v Mike Coffey
Mike's opening preparation led to a very reasonable position against the English, however, his position became quite passive, his play restricted by Steve's advancing kingside pawns, and this in turn led to a winning attack from Steve.

Board 3: Brian Ewart v Ben Ellington
The players somehow played this game with colours reversed from the published draw, with Ben taking the white pieces. In a game that showed the considerable skill of both players, Brian's experience and nous was ultimately telling, as he deployed a strong defensive set-up in the Rauser, where the latent power of the bishop pair proved irresistible in the long term.

Board 4: Brendan Kane v Tom Webb
A Smith-Morra - it ended all square with an agreed draw on move 37. Black kept hold of the gambited pawn but the pawn structure was blocked with no way through.

Board 5: Sanjoy Banerjee v Peter Jenner
In an exchange Caro, black dropped a central pawn in the opening, but found an energetic plan by keeping the king in the centre and thrusting forward on the kingside. White had to tread with care to keep the game under wraps, but ultimately found a way to trade into a winning endgame.

Board 6: Steve Winstanley v Steve Burge
In a really open game both sides fought to advance on opposite sides of board. As the game progressed black had a good advantage but Steve Winstanley managed to turn things around but used up too much time to keep on top, and things had turned again as his flag fell.
...
Standings after Round 3
2.5/3.0 Luke Boumphrey, Steve Kee
2.0/3.0 Colin Horton, Brian Ewart
1.5/3.0 Mike Coffey, Brendan Kane, Tom Webb, Sanjoy Banerjee, Steve Burge
1.0/3.0 Ben Ellington, Peter Jenner
0.0/3.0 Steve Winstanley
...
Draw for Round 4
Luke Boumphrey (2.5) v Steve Kee (2.5)
Brian Ewart (2) v Colin Horton (2)
Mike Coffey (1.5) v Steve Burge (1.5)
Tom Webb (1.5) v Sanjoy Banerjee (1.5)
Ben Ellington (1.0) v Brendan Kane (1.5)
Peter Jenner (1.0) v Steve Winstanley (0.0)
Details

Written by

Sanjoy Banerjee

Category: Atticus Open Championship 2021
Results from Round 2:
Luke Boumphrey 1-0 Brian Ewart
Mike Coffey ½-½ Colin Horton
Steve Burge 0-1 Steve Kee
Peter Jenner ½-½ Brendan Kane
Sanjoy Banerjee 0-1 Ben Ellington
Steve Winstanley 0-1 Tom Webb
...
Draw for Round 3
Colin Horton (1.5) v Luke Boumphrey (2)
Steve Kee (1.5) v Mike Coffey (1.5)
Brian Ewart (1) v Ben Ellington (1)
Brendan Kane (1) ½-½ Tom Webb (1)
Sanjoy Banerjee (0.5) v Peter Jenner (1)
Steve Winstanley (0) v Steve Burge (0.5)
Details

Written by

Sanjoy Banerjee

Category: Atticus Open Championship 2021
We have been advised at short notice that due to staff illness The Cross Keys will close at 9.30pm tonight. As such round 3 of the Atticus Open has been postponed until next week (16th August). The club night will still take place tonight as usual, the early closing notwithstanding.